Important Newsflash 11-27-2016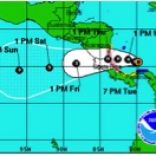 IMPORTANT INFORMATION FROM R.G.I.SA
Reforestation Group International SA hereby informs all her clients that the status of all the teak farms is critical due to the impact of the hurricane Otto that stroked the area of our farms on Thursday the 24th of November, between 1pm – 3pm. The access roads to the area of the various teak farms are partly blocked by river flooding and/or broken trees blocking the roads, earth slides etc. which all together makes the damage inventory complicated. RGI SA will during the coming two weeks complete the inventory and calculate the losses this storm has caused.

Tropical storm Otto kills nine in Costa Rica



At least nine people have been killed by tropical storm Otto in Costa Rica, officials say, as areas recorded over a month's worth of rain in a few hours.
President Luis Guillermo Solis declared three days of mourning. Some 5,500 residents had to be evacuated. Several towns were covered by water and mud, and small bridges collapsed.
Officials from the Public Works and Transport Ministry estimate that Otto caused damage on 150 roads accounting for some ₡4,734 million ($8.4 million).
Otto, the southernmost hurricane on record to hit Central America, made landfall in southern Nicaragua as a category-two storm on Thursday, the US National Hurricane Center (NHC) said. At its peak, Otto had wind speeds of up to 175km/h (110mph).
Costa Rica had not been directly hit by a hurricane since records began in 1851.